La Balie is set amongst the rolling terrain and Bastide towns of the Lot-et-Garonne in South West France. 
Explore local towns and castles, canoe the Dordogne, go wine tasting; or stay put by the pool for some serious R&R.
La Balie is a short drive from Monflanquin, a pretty bastide village chosen as one of the 100 most beautiful villages in France. There are shops, restaurants, bakeries and everything else you'll need for your stay.
The beautiful valley of Gavaudun is a short stroll from the house where you'll find a great circular walk through open woodland, the pretty village of St Avit and the stunning rock-hewn tower of Gavaudun.
There are masses of things to do in the local area; bustling markets for fresh fruit and vegetables, chateaux and castles to visit, wonderful vineyards and wine tastings, canoeing on the Dordogne or relaxing by our beautiful, heated, saltwater pool.
Originally a hill-top farm, all the cottages at La Balie have stunning views over rolling countryside. For some serious relaxation grab a glass of chilled rosé, listen to the ancient church bells peal across the valley and watch a spectacular sunset
Local Restaurants & Cafes…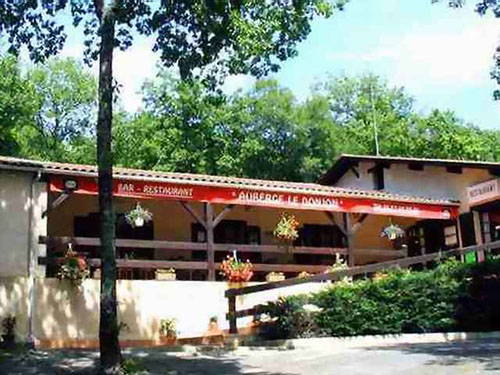 Auberge Le Donjon
The varied menu based on French country cuisine is what you are offered at the Auberge Le Donjon. Try the excellent menu de jour, which is local food and wine perfect for a family or group lunch, perhaps as you enjoy a country walk through the forest and valleys that make Le donjon a perfect lunch stop.
As many guests affirm, the service by Christine is terrific. The lovely relaxed ambiance makes a good impression on visitors, Le Donjon is what we love about France and the Lot et Garonne!
Please note that you should book for groups and Le Donjon is only open for lunch. 
Address: 979 route de Vezou, 47150 Gavaudun, France
Phone: +33 5 53 40 82 32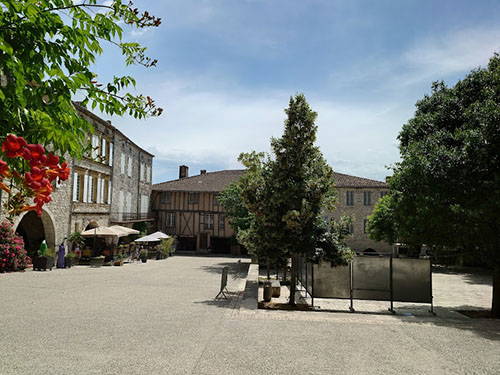 L' Effet Maison
Located under the arcades of the central square of the village of Monflanquin, a 13th century bastide and among the most beautiful villages in France. Working exclusively on fresh products directly with local producers, their menu changes every three weeks to keep up with the seasons and offer you quality cuisine. Passionate about travel, they also like to combine spices and flavours of the world. The reviews say everything, to avoid disappointment it's advisable to book.
Address: 25 Pl. des Arcades, 47150 Monflanquin, France
Phone: +33 9 52 13 07 73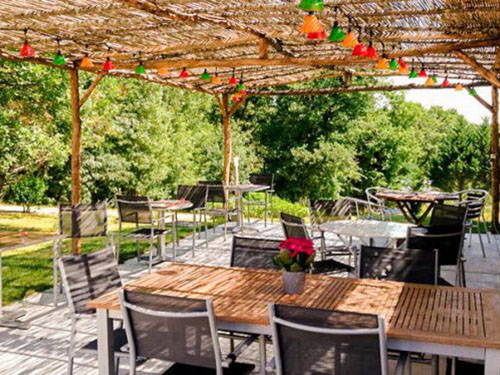 La Pierre Blanche
Located in the countryside, halfway between the bastides of Villeneuve-sur-Lot and Monflanquin, La Pierre Blanche restaurant welcomes its guests in the middle of a green environment. Marie-Laure, in the kitchen, claims a southern cuisine that she has perfected over her long experiences in Lyon and Provence. She remains very demanding on the quality and freshness of the products she considers jewels sublimating her plates. Louis welcomes, serves and selects wines from Bordeaux, Lot-et-Garonne, Côtes-du-Rhône and a little Burgundy. Definitely worth the drive to eat at this lovely establishment, you can book online to avoid disappointment.
Address: Maynot, 47150 La Sauvetat-sur-Lède, France
Phone: +33 5 53 40 69 14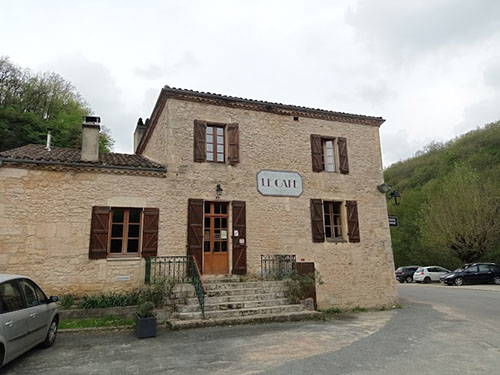 Le Café de Gavaudun Restaurant L'Essentiel
Beautiful situation, looking up to the ruined chateau at Gavaudun. The restaurant is very good. Outside seating and a large indoor restaurant. Good food a mix of French and international cuisine. A lovely spot for lunch to break up your walk through the beautiful La Lede river valley and local forests. – or perhaps just a beer or glass of wine at the end of your walk!
Address: Le Bourg, 47150 Gavaudun, France
Phone: +33 5 47 99 01 60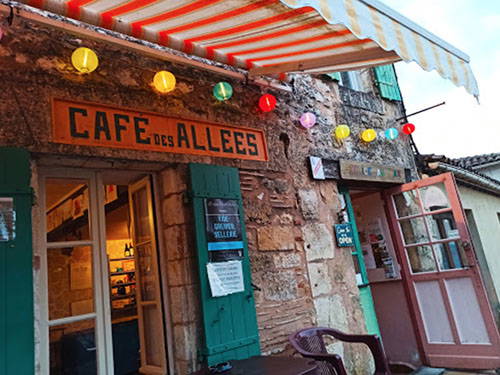 Café des Allées
A bar with snacks, but also a multi-service place in development: Internet access, games, reading corner, exhibitions, concerts, musical oxen, conferences, meetings. Pop in for a drink or a bite to eat when passing, especially if you are on your bikes. Cafe des Allees is a lovely quite spot opposite the church in Montagnac sur Lede, that sometimes comes to life with a live event that makes your holiday memories!
Address: le bourg, 47150 Montagnac-sur-Lède, France
Phone: +33 5 53 70 18 95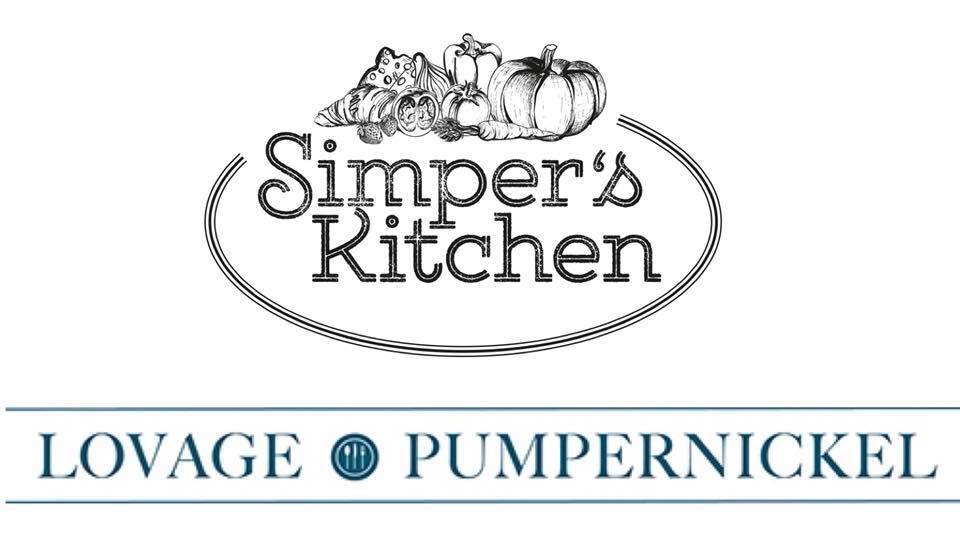 Simpler's Kitchen Catering Service
Lucy is originally from Camden in North London. She started her early career in London working in establishments such as Mosimann's private dining club, Lanesborough hotel and Fortnum & Masons.
She then left the shores of Great Britain to sail the seas on super yachts, first travelling around the Mediterranean then moved to Qatar working for the royal family for a few years. Lucy moved back to the UK in 2011 to become sous chef at Mckinsey's followed by head chef at NBC Universal in 2014.In Autumn 2015 she decided to set up on her own with catering company Simper's Kitchen and provide private chef services to groups and parties using her wealth of experience.  Lucy is brilliant if you want her to cook for you we recommend contacting her early and booking her for your stay
Lucy lives near Duras, France with her husband, two sons and Cocker Spaniel.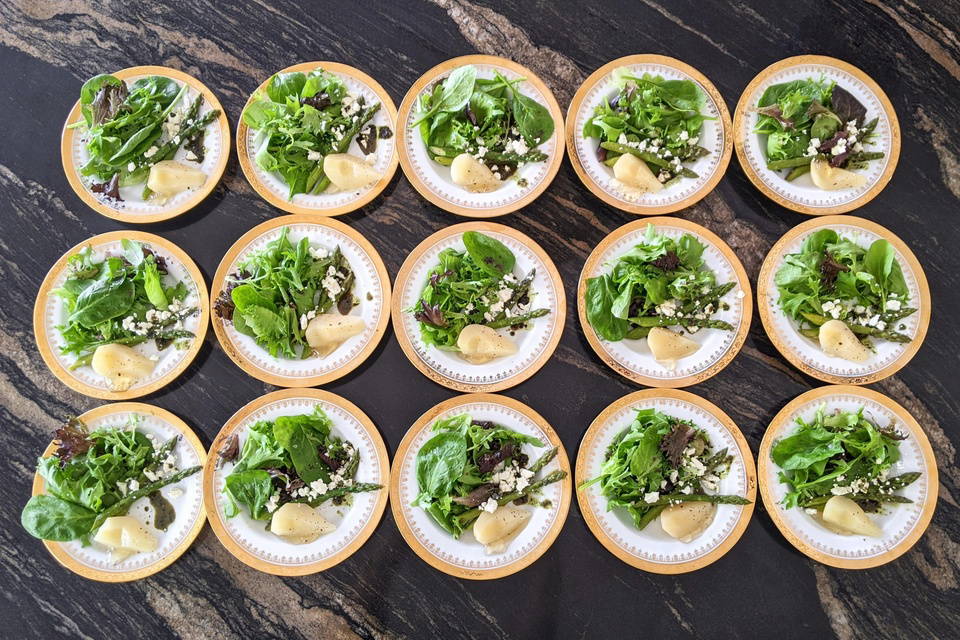 Atelier Funambule - Professional private chef
Atelier Funambule is a local business run by Celine Galand specialising in providing catering service and expertise to anyone who requires a personal chef for their event or occasion.
Her food is vegetarian and seasonal, she focuses on using local products of the region, sometimes from her own garden including eggs from her chickens. The Lot et Garonne is like a garden of fruit and vegetables, if you would like to experience Celine's cuisine please contact her to check her availability and to discuss menus and pricing.
Her contact details are
Céline Galand 
– créatrice de cuisine sensorielle ® 
06.60.08.99.44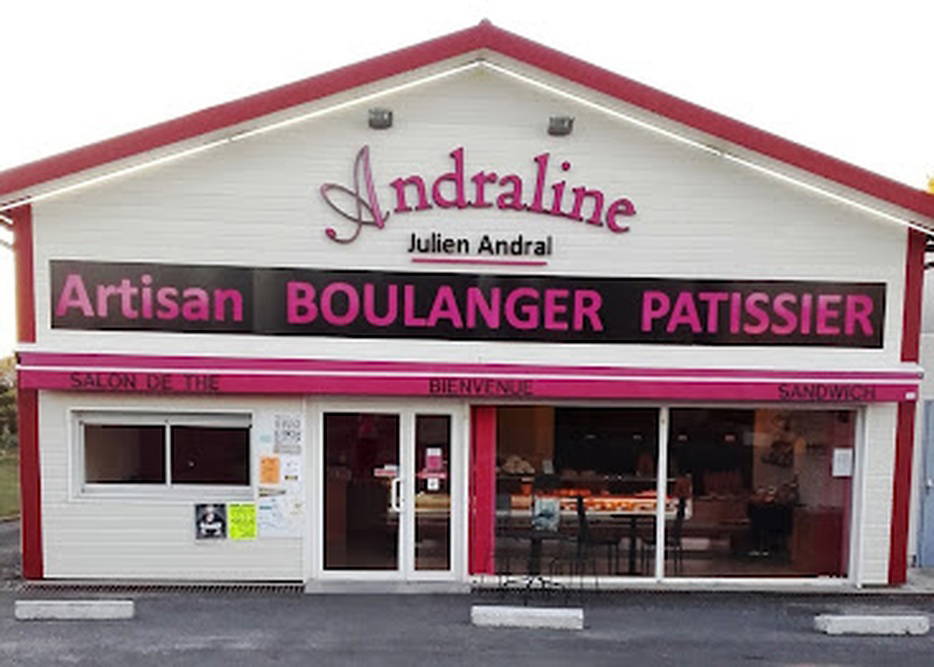 Andraline - Artisan Bakers
One of the joys of visiting France is the bread, there are numerous boulangeries and the markets french sell very good bread.
Of all the local Boulanger Patissier, I rate Andraline as the go to bakers locally, they will also take orders that can be collected on Monday or Thursday in the Place de Salles, between 11.45am & 12.15pm.